There is a real rarity being offered on eBay at the moment.
http://www.ebay.co.uk/itm/10ft-snook...item4aed2d7c31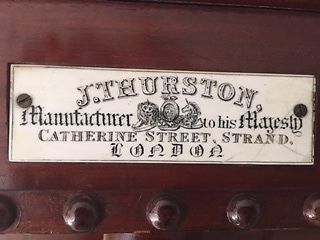 This 10ft table has a plate which reads "Manufacturer to
his
Majesty" This refers to William IV which places it between 1826 and 1837, almost certainly pre-dating slate beds. The vendor doesn't say whether it currently has a slate bed, so I assume that one has been fitted at some point in its history.
I would expect the bed would originally have looked something like this smaller portable table made by Thurston at around the same date.