Been out on my rounds today , and revisited a table I first came across in the 90s when I stretched the cloth , a very large country estate in lincolnshire , main house is around 400 years old with added extentions at later date's
Today we where putting the table back up in a refurbished room which has a new carpet put down , and recovering it in 6811 tournement cloth , plus repairing a part Broken slate ( very small lump broken on one corner ) .
The billiard table
A Thurston 4 section very thin slate bed which is screwed by recessed screws in the slate bed to the frame to stop movement .
slender turned legs made out of very heavy cuban Mahogany , the side and ends of the frame being solid oak with flamed Mahogany Bookmatched veneer .
the cushions having very thin cappings much like the gillows table I wrote about on this forum .
Very old recessd top plates with squared off side flanges , the leather part of the plate rise above the capping unusual and one plate design that I have not seen before , Bag nets are fitted to these plates .
I have been informed that the table would have been New when bought for the house around 1830s they do keep most reciepts for work done to this table and our firm has worked on it from the 1950s onwards , it is very obvious that the cushions have had work on them over the past years , I suspect that it had an original wooden bed , and then the bed was changed over to the thin slate , so the cushion bolt holes where dowled up and new holes for cushion bolts redrilled blocks replaced to allow the sloping strip rubber that thurston was useing at that time , the 2nd modification came after the bed change over , the cushions again had work on them the Rubber blocks where changed again for modern L shape rubber the bolts again where dowled up and redrilled , leaving evidence of two dowls and new bolt hole for the modern blocks which can be plainly seen .
the last modification was done by burroughs and watts who put their rerubber plate on no 1 cushion , the original thurston plate is on no 4 cushion .
both these plates are covered over by screw on cushion panels to hide the mess of those dowled up and redrilled cushion bolt holes .
the table has no serial number in the frame legs , which could mean it was a very early table made by thurston before they started numbering them .
the frame bolts are thick coarse hand made threads , a very early table to use these .
the cushion bolts too where a coarse thread that I have not come across too often , the nut part embedded in the slate is just solid lead that had been drilled and threaded , there is no steel insert lug within the lead , thats a first for me .
tightening these bolts into the lead is hard wordk as the lead is grabbing at the thread and it is slow to bite in , made me sweat a bit getting the cushons tight up against the slate .
on the wall there is a very early Life pool small score board with Thurstons Cathrine street in a gold leaf transfer in what I would say is in perfect condition for it's age , the main score board is a two roller type Burroughs and watts , there is also a rotating cue rack with old long tackle stamped thurston and burroughs and watts , also a few old thick mace butt billiard cues and a nice 1907 Reece cue the one with the very high billiard score on . No the reece cue is not for sale

but I did sell one of these a few years ago for £410 on ebay so a very collectable cue .
I did not have my camera with me but my Helper for the day Poolman took some photo's on his high tech phone and is going to forward them to me , so I will be adding Photo's of the table later .
note the doweled photo ( last photo ) of hole with two dowel filled holes below , first plugged hole is wood bed circa 1830s , second pluged hole is old slope rubber blocks to new slate bed circa fitted around 1850s ?, third drilled out hole is new rubber blocks as used today circa early 1900s by Burroughs and watts . or prob later by elston and hopkin as they have only had two recovers by counting tack holes in them .
I do know Elston and hopkin Billiards has worked on this table since the 1950s . when the present owners inherited the property .
you can see a line just below the Rubber block showing the depth of those old slope rubber blocks .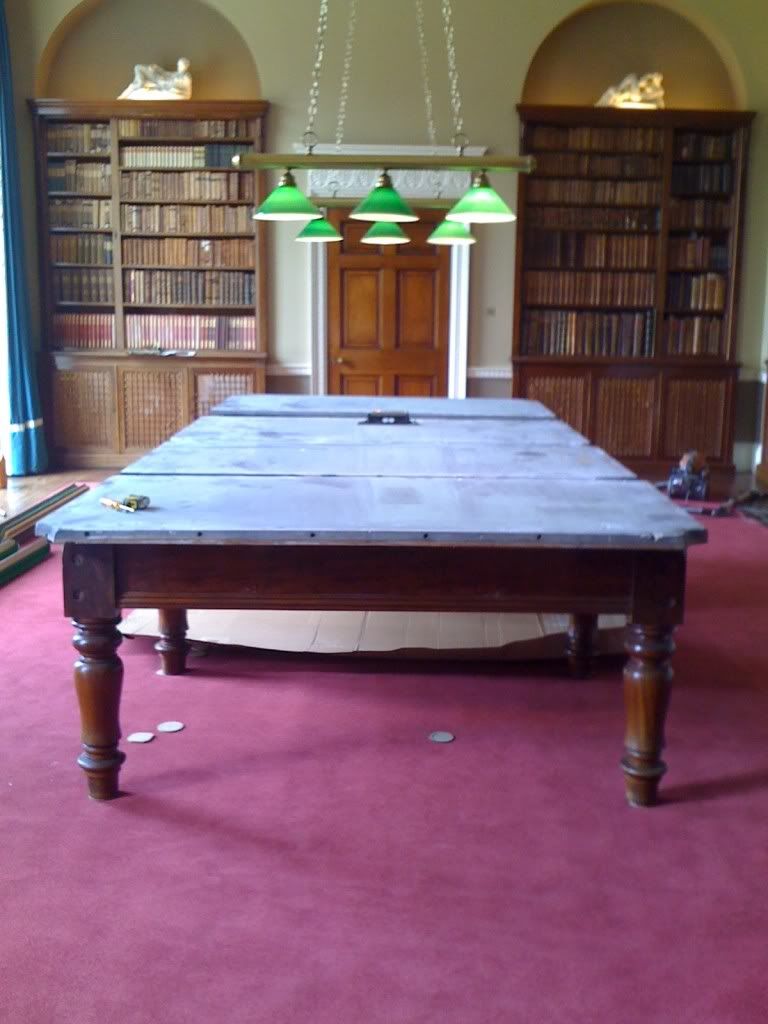 note how hight this unusual pocket plate sits above the very thin capped cushions .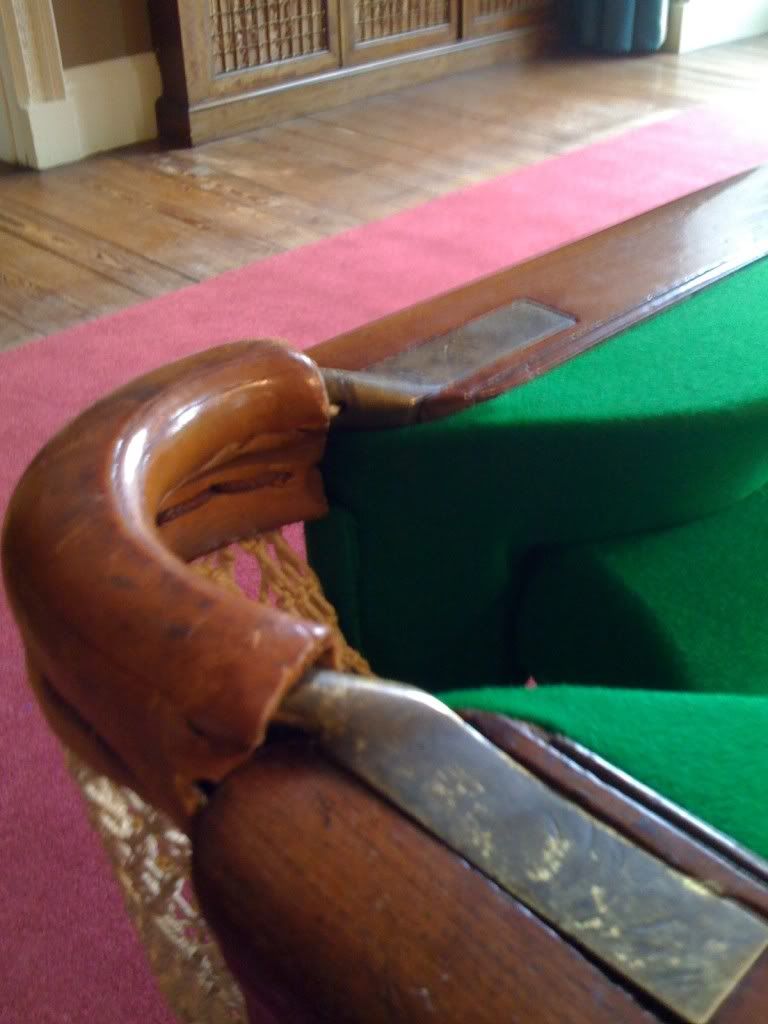 gold leaf name transfer on a 1840/50s marking board life pool type .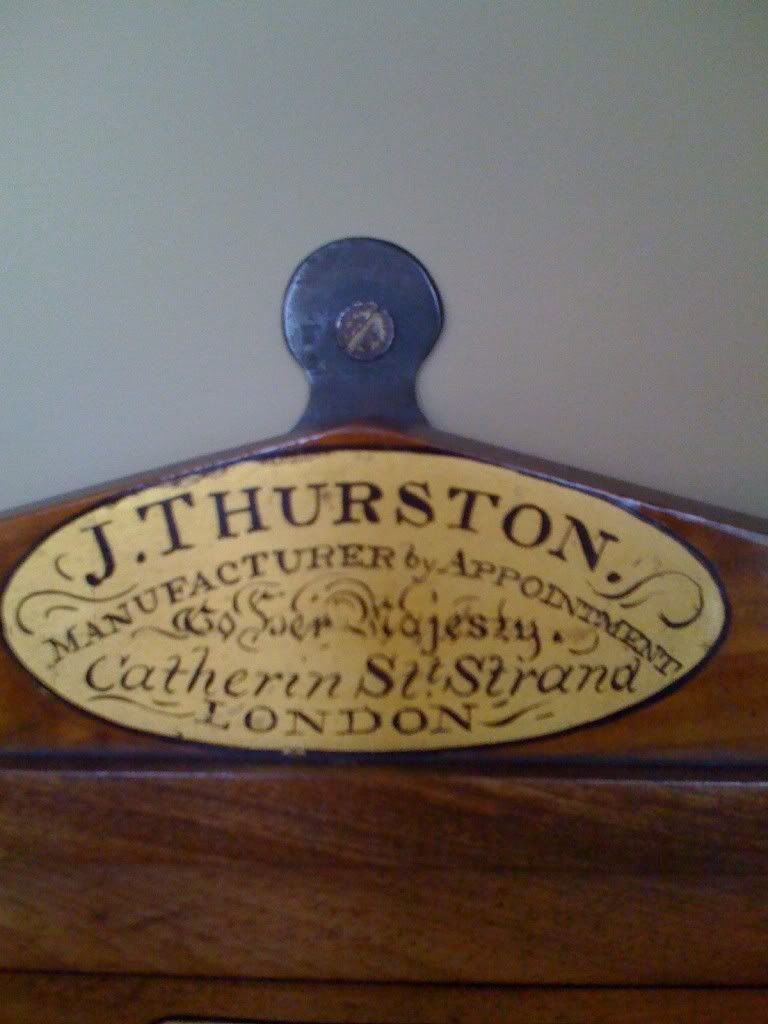 Dowled plugged holes twice
many thanks to Steve ( poolman ) for sending me the photo's some where a bit blurred but I used what was the best for illustration , but they where taken on a phone not a proper digital camera .
Geoff